— Sports
Russell Westbrook delivering in clutch, calling back to old memes
Russell Westbrook's facial expressions can be dramatic — so much so that his reactions are captured and shared far beyond basketball. Look no further than the guard's famous "Ahhh, that's pretty interesting" quote from a few years back that became a popular meme on the Internet.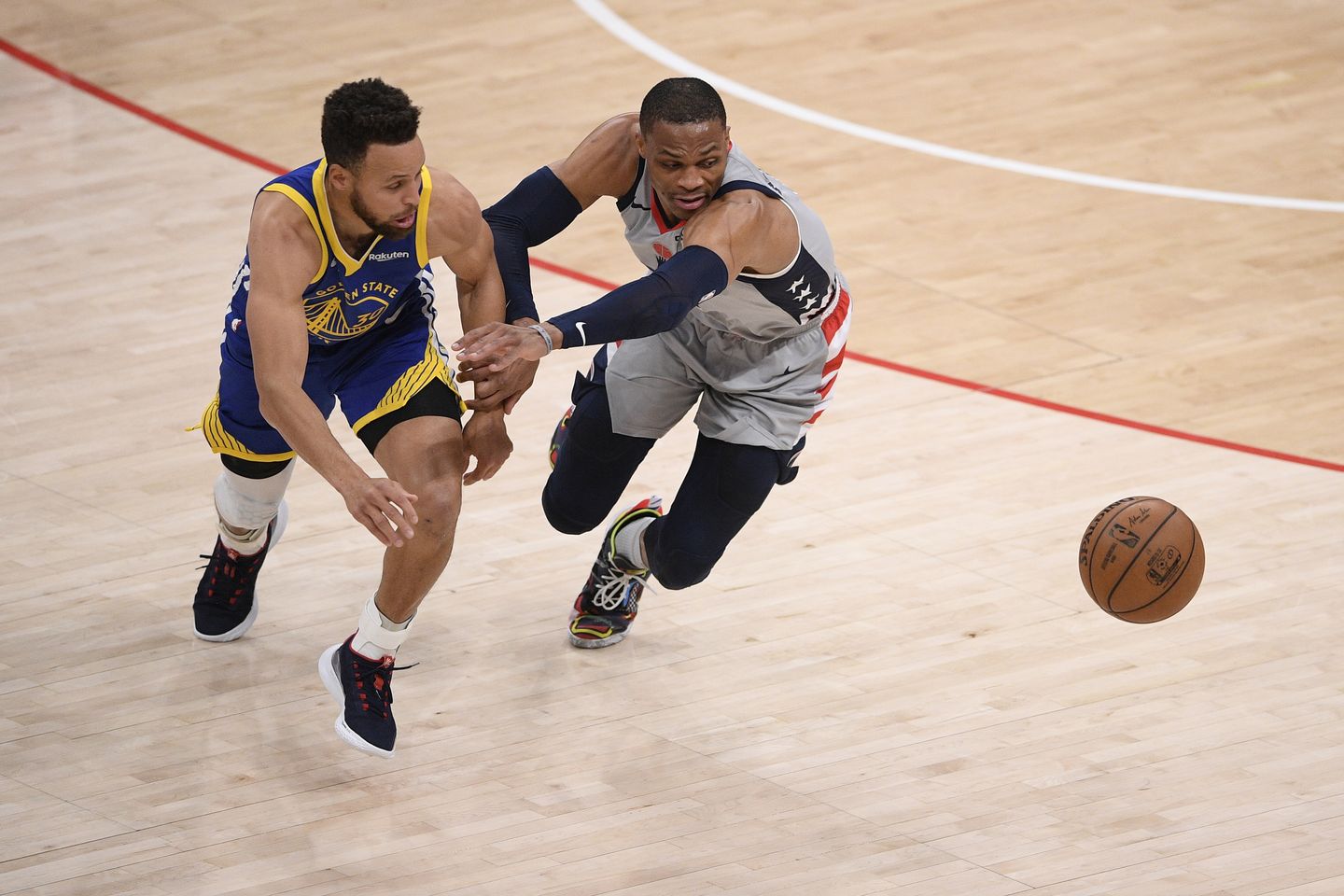 And Westbrook has fun with the phenomenon.
Told Wednesday that he leads the NBA in a category known as clutch field goal percentage; he leans in hard to the bit. "Oh really?" the Washington Wizards point guard said, eyes wide. "Ahh, that's interesting. I didn't know that." Westbrook was likely being sarcastic, given the point guard previously liked an Instagram post with the same statistic. But no one could blame him for being in a festive mood after arguably the Wizards' biggest win of the season — a 118-114 victory over the Golden State Warriors, extending their streak to six. Washington closed the game with a 25-10 run, including some timely baskets from Westbrook.
Against the Warriors, Westbrook went 2-of-14 over the game's first 44 minutes. But in the final four minutes, Westbrook honed in. He powered to the basket on a fastbreak with 3:45 left for the easy bucket. He did the same on the Wizards' next possession, cutting Golden State's lead to two with 3:04 left. Then, with less than 90 seconds remaining, Westbrook blew by Andrew Wiggins to give the Wizards the information for good.
Westbrook finished 5-of-17 for 14 points but went 3-for-3 when the game mattered most. On the season, he's now shooting 57.1% in the final five minutes of the fourth quarter and overtime when the contest is within five points, the NBA's definition of the clutch — best among players with at least 50 attempts.
So, what does Westbrook think?
"Oh, I know what I do," Westbrook said. "I ain't worried about what everybody else is thinking. The only thing about me is that it doesn't matter what everybody else thinks. That's OK. I'll keep doing what I'm doing, keeping my head straight and hooping. That's all I can do."Westbrook may not be surprised, but the numbers are revealing — and somewhat counterintuitive, given the nine-time All-Star's reputation. Critics for years have zeroed in on Westbrook's aggressive play, arguing that he's an inefficient player. They often used his clutch numbers as evidence. Westbrook, for instance, shot just 35% in the clutch in 2018-19.
But Westbrook has been invaluable for the Wizards as of late, even with Bradley Beal still the top option in such situations. Westbrook's play is one of the main reasons the Wizards are making a playoff push: they've climbed to 10th in the Eastern Conference, the last spot available in the league's play-in tournament.
Coach Scott Brooks isn't surprised. He said the point guard is tapping into "his memory bank" when the moment is needed, relying on his experience in close games. Westbrook has routinely made the playoffs throughout his career and made the finals in 2012.
"He doesn't ever let the moment bother him," Brooks said. "That's what he's instilling in all of us." 
Brooks said Westbrook could even dial it up on a subpar night. Before coming through Wednesday, Westbrook struggled on the offensive end, committing nine turnovers. He bricked many open shots and forced too many other contested ones. Still, an awful quiet night doesn't mean Westbrook isn't contributing. The 32-year-old tied his career-high in rebounds with 20. And Westbrook was heavily involved on the defensive end, guarding Stephen Curry. The Warriors star shot just 7 of 25 from the field for 18 points.
Before Washington, Curry had averaged 40.8 points per game over his last 10.
Westbrook said he'll do whatever is asked of him.
"I feel like I'm one of those players. If I need to defend at a high level, I can do that too," Westbrook said. "If I need to score high, I can do that. Pass? I can do that. Rebound? I can do that.
"Want me to coach? … I can do that, too. I feel like I can do everything."
Sign up for Daily Newsletters